Ok, so to be honest,it's what I made today and yesterday. Mostly yesterday, I just ran out of light to photograph.
I was inspired by this post by Wren Handmade, guest blogging on Design*Sponge, to make fabric yo-yos. I actually made a bunch for a recent sweater design which I can't show yet, but here are some that I grouped together for a necklace. The pink fabric is from a vintage slip and the striped is a yummy silk taffeta. I like adding tiny buttons, especially in groups of three, to spice things up. I pulled out all the stops here, using buttons and fabric I've been hanging onto for a long time, but I'm glad, because it makes the new pieces feel like little treasure chests.
This post by Love Forever, along with the latest Anthropologie catalog showing(see necklaces below) inspired me to make my own version of a collar necklace.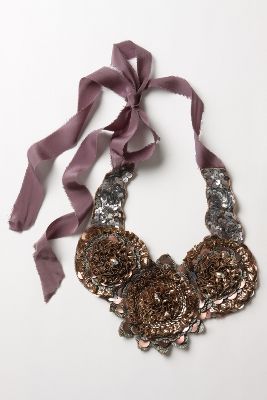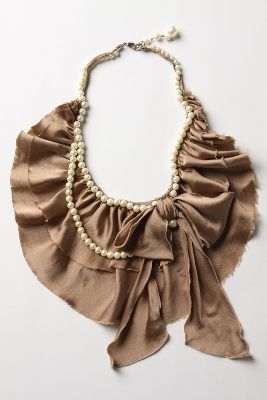 Bit's of lace, many buttons, knit coral, chain, a locket, beads, yo-yo, embroidery... so again, a treasure trove of things I had lying around just waiting for a home.... all atop a piece of wool felt tied with vintage, silk seam binding.
Check out the awesome sloppy seems on the curtain I made! SO obvious with the sun behind them. I'm just not a perfectionist when it comes to sewing. I get started and blaze on through like a tornado. It's a little silly, but usually if you see me sewing, I'm procrastinating. Any "tiny sewing project" quickly turns into a major undertaking, so I just want to "Get er done!"
Also, here's a little buddy who'll be joining me at the flea market tomorrow. I found his unfinished form when moving into my studio, so I decided to finish him... or her? Her legs are quite long. Perfect for hopping!